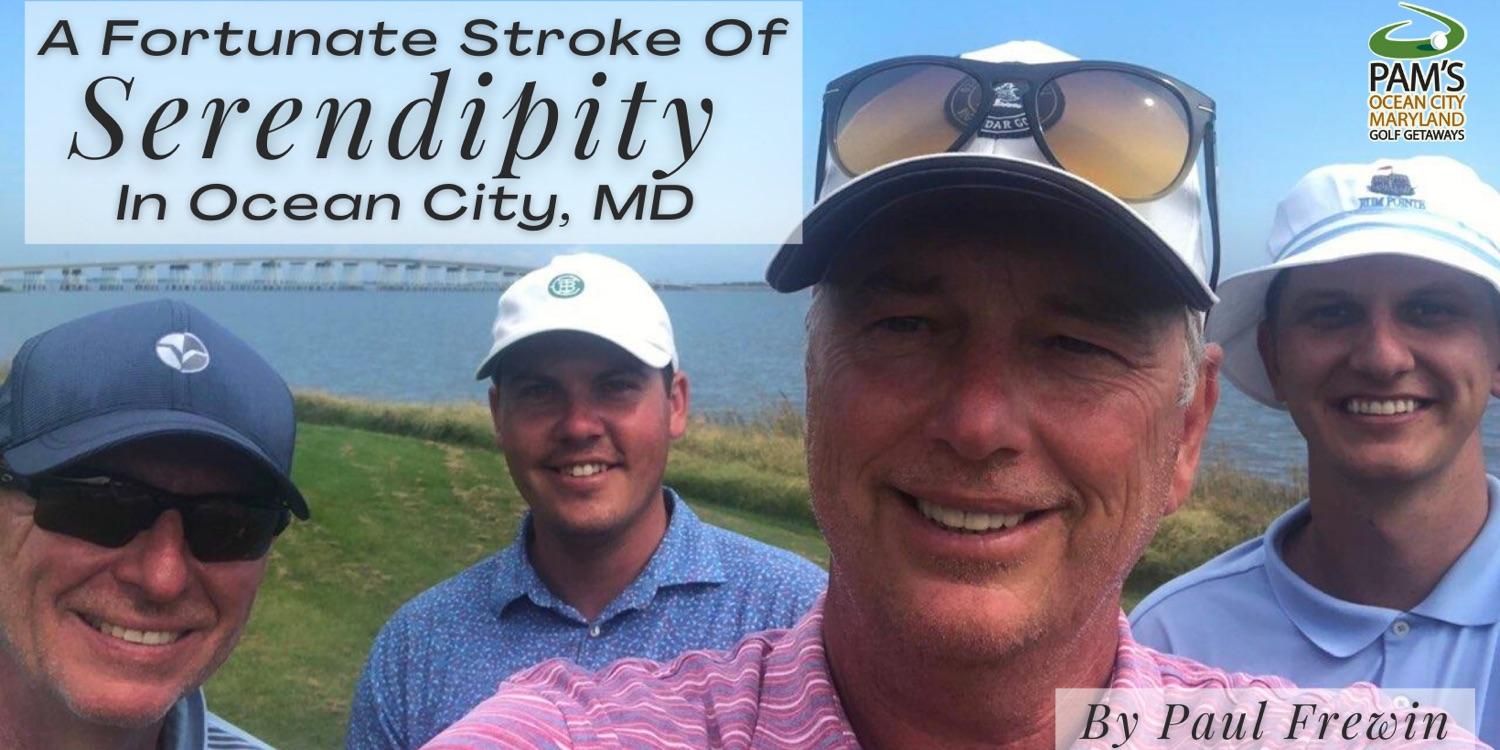 Golf in Ocean City, MD During The Covid19 Pandemic
A Fortune Stroke of Serenipity
By Paul Frewin
2020 was definitely a devilish year, to say the least. That being said, sometimes a fortunate stroke of serendipity can surprise one with unanticipated happiness and gratification. My name is Paul Frewin and I live in Springfield, Missouri. One of my ambitions has been to play golf in all 50 states, and I am currently idling on 49 as our 2020 Alaska golf trip and cruise was cancelled. I must say my golf buddy trips are just about my favorite getaways of the year - a much-needed time to relax with friends, old and new, to enjoy the game of golf we love. And, I thoroughly enjoy the planning aspect of our golf buddy trips, as well. It gives me the opportunity to choose the finest courses available in a city or state and ensure that the things that need to get done, get done properly: car rental, hotel and dining reservations for example. The sunrise/sunsets, weather history and aeration dates are all taken into account.

In 2020, my friend, Brad Johnson, a close business associate and I along with his two adult sons - Adam and Joey, (in their late twenties), wanted to begin yearly golf buddy trips. The inaugural trip was to be at Cabot Links Resort in Nova Scotia, Canada. The trip was planned far in advance and with meticulous detail with the exception that we had no antidote for the SARS-CoV-2 virus and access into Canada remained closed, finally getting the verdict of an extended travel ban to Canada several weeks before the trip. Time was tight and other options closed as well. But I then remembered a trip I had previously arranged for friends a year or two ago to Ocean City, Maryland. As background, I have also been chasing the Top 100 Courses You Can Play (now over 75 played), and I knew the Ocean City area was the location of the Top 100 Links at Lighthouse Sound and my previous research on an Ocean City golf trip had caught my attention particularly after visiting Pam's Ocean City Golf website.

As I have implied, I am a pedantic planner and found Pam's Ocean City Golf travel website to be THE most comprehensive Golf Destination Planning Site that I have ever encountered - the website includes every pertinent detail one needs to build a successful golf buddy trip from detailed reviews with photographs of the golf courses, to maintenance dates, to historic weather information, to food recommendations with the unique advantage that Pam's can arrange preferred tee-times and lodging which can be the trickiest part of any trip. They also have the inside information on available discounts when pairing certain courses together.

So, I telephoned Pam's Golf and explained that the four of us were in need of their magic to organize a last minute golf trip to Ocean City. Again my distress call was initiated in mid-July for an early August trip and I thought it was probably impossible to get anything close to what we wanted. But, within 24 hours, Pam's had rescued us with an email that had our 4-day Ocean City golf trip totally arranged, as we had requested.

We were scheduled to be in Ocean City for 3-1/2 days in early August, and they arranged for us to play 7 of the premier courses that the Ocean City, Maryland region (that includes southern Delaware) has to offer and actually, all of the Maryland courses we played, except one, were within the top 8 public access courses in the state and the three Delaware course were ranked #1, 2 and 4 in Delaware (Golf Magazine). We flew from Missouri to Washington-Reagan, and it was a pleasant 2-1/2-hour drive to Ocean City.

Pam's had miraculously arranged comfortable and convenient lodging for us a 4 bedroom, 3 bath townhouses, at River Run Golf Club, backed up to one of the beautiful par 5 holes there. This was an ideal base camp for our stay and had neatly packaged the ambitious 2 a day rounds of golf for 3 days, along with an early morning get-away round, so as to minimize travel time to and from each course. Pam's also provided suggestions for dining that were always nearby to where we would finish up our last round of golf each day, since this was our first trip to Ocean City. I mean, you can't get much more spoiled than that! (continued below)

On the evening of our arrival, we traveled just 10 minutes from River Run to the contemporary Skye-Bar and Restaurant-the Old Bay seasoning was a game changer. The views of Ocean City from the rooftop bar, particularly the sunset were amazing. And with COVID restrictions in place, it was very sad for me to see how relatively quiet the evening was, and I could only imagine how much fun the Skye-Bar would be on a typical warm summer evening in Ocean City. On our way back to River Run the golf-gods exorbitantly smiled upon us as a long line at Dumser's Dairyland caught our attention. A legal U-turn, (I think) was made, and we joined the masses for their signature "thick milkshakes". Two of us made a rookie mistake and ordered large mint chocolate chip shakes. An executive order followed mandating Dumser's every night- all four nights, after dinner. In fact, the betting on the golf course transitioned from cash to paying for Dumser's ice cream each evening, and regarding the rookie mistake, we never wandered from our original choice, mint chocolate chip too risky!!

Mornings began relatively early with our first tee-times generally before 8am. A routine morning stop at the local McDonald's passed on the way to the golf courses provided us with diet cokes and breakfast sandwiches needed for us to be ready for the long days ahead. Day 1 we played at War Admiral in the morning and Rum Pointe in the afternoon. It should be noted, that although we loved all seven courses we played, at the end of the trip we individually ranked the golf courses to our personal preference. Indeed, we prepared lots of "lists" for about everything we did. Rum Pointe was consistently a top 3 or top 4 favorite for all of us. Seaside holes 8 and 16 were particularly stunning, and the classic Dye 9th and 18th holes with water in play the entire length of the holes made for exciting competitive finishes. That evening we had reservations at The Sunset Grille, which was a big hit for all - (the Baltimore Club was one of the best sandwiches I have ever had). To our good fortune our waitress shared with us that there was another Dumser's even closer to our current location, so the day finished with another mint chocolate chip shake.

Day 2 in Ocean City: Our morning round was at the Top 100 You Can Play (Golf Magazine) Links at Lighthouse Sound (another box checked). The Links at Lighthouse Sound is a beautiful Arthur Hills- designed course built into an amazingly diverse natural setting and afforded stunning views of the Ocean City skyline. The touted "America's longest cart bridge" brings you to the back nine. For me, holes #4 and then the signature par 3, hole #5 at Lighthouse were exceptionally beautiful golf holes along the bay that rival any I've ever played. The Links at Lighthouse Sound was ranked the No. 2 favorite course on each of our lists. Our afternoon round was 15 minutes away at Bayside Resort in Selbyville, Delaware a Jack Nicklaus signature course that found its way to a No. 3 favorite on a couple of our lists. From the tips, Adam and Joey found the 18th hole to be one of the most challenging and enjoyable closing holes they have played. Dinner was close by at Lizzie's Café and Bistro where the choice between a New England ("Maine") Lobster roll and a Connecticut Lobster roll was impossible for me to make, so I simply had to get both. For Adam, the Connecticut Lobster roll at Lizzie's was declared the best sandwich he has ever had. "Large" Dumser's thick mint chocolate chip shakes followed, of course.

Day 3 was spent in Delaware: On our early morning 45-minute trip, fate again favorably intervened with a Starbucks next to a Chick-fil-A, for breakfast in Millsboro. We played at Baywood Greens Golf Course which is the # 2-ranked public course in Delaware (Golf Magazine) certainly worthy of its high ranking, maybe even underrated a fraction. Despite an extended morning drive and light rain on the front nine, this course was the unanimous #1 favorite for all of us. The Baywood Greens course was in meticulous condition and the framing of the holes with flowers, shrubbery and trees are the impetus for it's nickname "Augusta of the North". Then, on our way to the afternoon round at Bear Trap Dunes we ate at Rust's Sub and Sandwich Station on route 24. Not knowing better, we were not sure what we were getting ourselves into at this small deli with a couple of old gas pumps out front, but the service and the generous sub sandwiches were absolutely fantastic. We played the Grizzly and Black Bear nines at Bear Trap Dunes. Dinner was at Squares Pizza in Ocean City. We basically arrived as they were closing, but they welcomed us in with open arms. The service and the pizza were absolutely phenomenal, and then of course we made our last rounds at Dumser's for a "Large" mint chocolate chip shake.

On getaway day number 4 we played at Eagle's Landing- the par 5, 7th hole was one of my favorites of the trip. The breakfast sandwich at the Caddy Shack Café was voted the best breakfast sandwich ever.

The courses we played in Ocean City are all meant to be challenging and fun for golfers of all skill levels. Joey and Adam are +4's and played from the tips at each of the courses which at times required permission from the golf pro but was never a problem. Brad and I played from several tee boxes forward where "members" would generally play from. All four of us enjoyed the challenges and found the distances played to be comfortable. All in all, this inaugural golf buddy golf trip with Brad, Adam and Joey exceeded all expectations. Every one of the 7 courses Pam's OC Golf arranged for us were top-caliber in quality and the costs of the trip were shockingly reasonable, being one of the best valued golf trips I've ever been on and certainly rivaling the Jones Trail in Alabama. Personally I need to finish up my rescheduled trips to Alaska and Cabot and then definitely make plans to return to play again in Ocean City under the direction of the golf planning experts at Pam's Ocean City Golf Getaways.

I would encourage golf buddy trip leaders to peruse the Pam's Ocean City Golf website, and you'll see what I mean about the details. Pick your courses and then let the girls at Pam's OC Golf Getaways make it happen for you and your team. You'll come away looking real good, and I can assure you your golf buddies will not be disappointed!!

Call 800.472.6722 or visit www.PamsGolfOC.com Today & Learn Why Golfers Prefer Pam's Golf Getaways!

More Information »
Revised: 08/02/2021 - Article Viewed 3,546 Times
About: Paul Frewin
---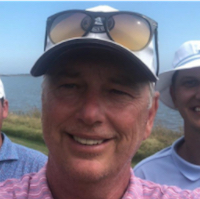 A trip leader to Ocean City Maryland. Pam's Ocean City Golf Getaways / Ocean City's #1 Golf Packager
---
More Articles by Paul Frewin
More Related Articles